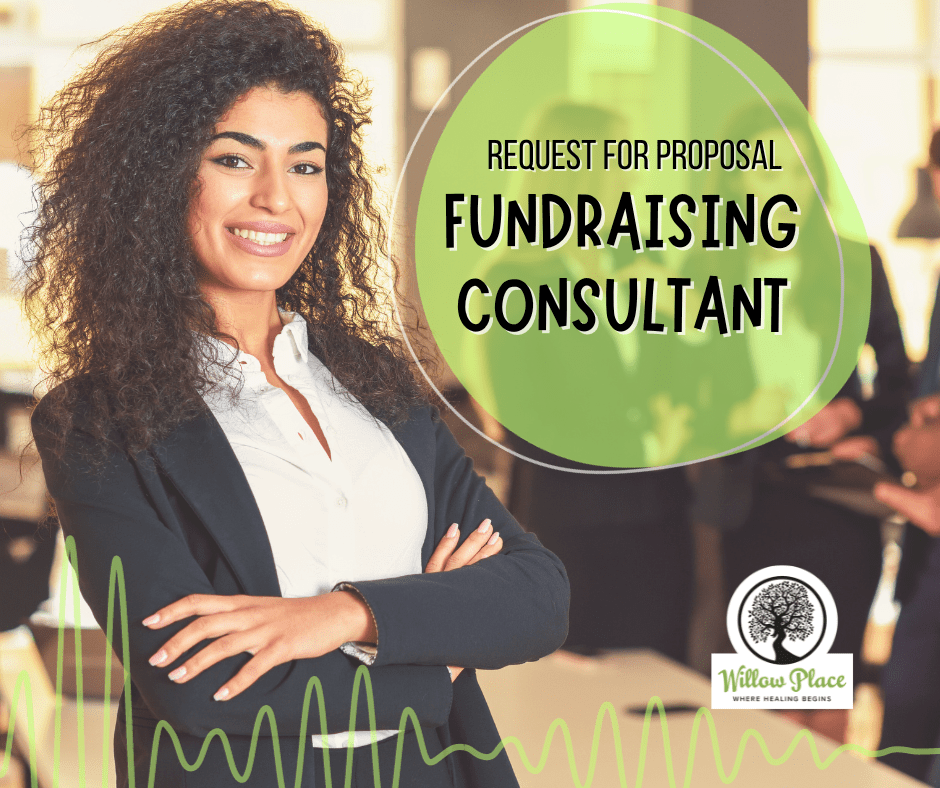 Request for Proposals (RFP)
Fundraising Consultant
Organizational Overview
We support Manitobans in nurturing healthy relationships in a safe space. Our vision for Willow Place within the next five years is a holistic expansion of our capabilities and reach, building a comprehensive
support system for those affected by gender-based violence in our community and beyond.
Project Background
Willow Place has outgrown our current space and is seeking to plan and execute a capital campaign for a new building to broaden and enhance our service delivery capabilities with the necessary resources to sustainably support this evolution. We aim to retrofit a new building as a beacon of safety and transformation, embodying our commitment to healing and growth.
Our vision for this project is a new emergency and transitional housing for women, children, and 2SLGBTQQIA+ individuals who have been affected by gender-based violence. Willow Place's pursuit of suitable shelter accommodations has spanned numerous years, reflecting the pressing need to enhance its capacity. The existing facilities are inadequate to serve the needs of Willow Place's residents. Moreover, the number of bed nights for the past year (13,446) has increased by more than 3,500 from the year prior (9,764). The need for a larger shelter is evident as the shelter frequently operates at full capacity or above capacity. This endeavor aims to provide a safe haven and comprehensive support services to best meet the needs of those who have experienced gender-based violence. The proposed project envisions the establishment of a shelter that can accommodate 48 beds with approximately 43 emergency beds and 5 transitional beds. Furthermore, the facility will house 14 offices and common areas designed to cater to the Participants' needs. These communal spaces include a commercial and teaching kitchen, dining area, classroom, lounge, childminding room, workshop room, spiritual space, and medical examination room.
Key Consultancy Objective
Willow Place seeks to engage an experienced fundraising consultant or consulting firm to provide strategy, direction, counsel, accountability, design, and implementation of a comprehensive fundraising campaign to raise the money needed to support our new building. The consultant will work in consultation with the Willow Place Executive Director, the Board of Directors, and the volunteer capital campaign committee to design and implement their plans.
Key Deliverables and Outcomes
The Case for Support. This is the document that explains the campaign publicly. It must be clear, and concise and include financial goals for campaign programs and projects. The case must also be an inspiring and deeply persuasive demonstration that our new building is necessary, highlighting the unique qualities and needs of Willow Place. The expected outcome is to have a text with persuasive language that convinces potential donors that the need for a new building is valid, urgent, and compelling.
2. Create and implement a project plan that includes:
A campaign overview that outlines milestones, activities, budgets, targets, and timelines.

Roles, responsibilities, and deliverables of those involved in implementing the campaign, and lines of communication and accountability.

Current and new donor prospects to be targeted and the strategies to be employed for targeting them.

Creation and oversight of a gift matrix.

Key messages, target audiences, and marketing and communication initiatives.

Fundraising events/initiatives.

Recognition of donors.
3. Management of volunteer capital campaign committee that includes:
Drafting and communicating job descriptions and expectations to members.
Maintaining regular communication to keep members up-to-date on campaign progress and upcoming milestones.
Advise committee in decision-making and establishing targets and timelines.
Monthly reports to Willow Place tracking progress and outlining any decisions that need to be made as necessary.
Adequate funds raised to support Willow Place's goal to retrofit a new building.
An assessment of the increase in donor engagement and monthly donors following the end of the campaign.
Time Commitment
This contract is part-time and is expected to begin in December 2023. It is anticipated that it will take 3 years to raise the necessary funds. Willow Place expects to move into a new building in 2026 and for the fundraising campaign to wrap up in 2025.
Profile of Consultant/Firm
1. Understanding and affirmation of Willow Place's mission and values.
2. Demonstrated knowledge and experience of fundraising multi-million dollar campaigns.
3. Excellent project management skills, as demonstrated through successful management of personnel, schedule, and budget to complete deliverables on past consulting projects.
4. Proven track record in facilitating communication and collaboration among various organizational departments and positions.
5. Experience with a variety of donor streams such as individual gifts, endowments, online fundraising, social media fundraising, and institutional grants from foundations and government.
6. Demonstrated experience and success in a variety of marketing tools such as direct mail, website, social media, phone soliciting, presentations to philanthropist individuals and groups, etc.
7. Demonstrated knowledge of, and connections to, the philanthropic and donor landscape in Winnipeg.
8. Collaborative and inclusive communications style.
9. CFRE designation an asset.
Proposal
Proposals should include:
1. A letter of interest that outlines your interest, qualifications, and availability.
2. A fee schedule.
3. Current CV/resume for a single consultant, or CVs for up to three people who would be delivering services on behalf of a firm.
4. Information about 2-3 comprehensive fundraising campaigns you and/or your firm successfully planned, implemented, and executed.
5. Three references from past clients.
Proposals should be submitted on or before November 15th, 2023 to Willow Place, attention of Marcie Wood, Executive Director:
· By email: [email protected]
· Or by mail: P.O. Box 1786, Winnipeg, MB, R3C 2Z9