Willow Place Autumn 2023 E-Newsletter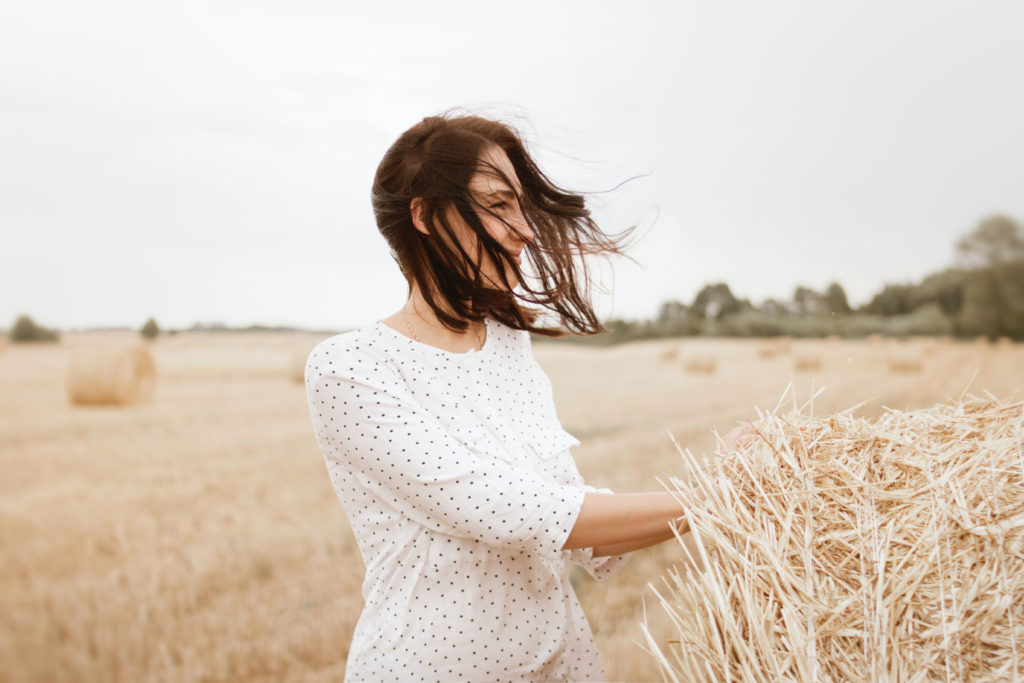 ECUADOR TREK UPDATE
Winnipeg Realtor, Chris Pennycook
Willow Place is delighted to once again be supported by local Royal LePage agent, Chris Pennycook. The Royal LePage Shelter Foundation raises awareness and much-needed funds for shelter programs across Canada, and the annual Trek is a significant part of this commitment to helping those in need. THANK YOU, Chris and all those who have contributed to make this amazing event possible.

As of September, Chris had already raised over $40,000; and he hopes to once again raise over $100,00! You can follow his program and donate by visiting Chris's fundraising page: CLICK HERE FOR INFO!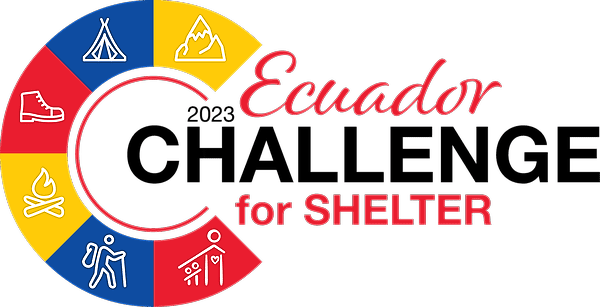 IZZY CHAT APP
Innovation improves access
This past summer, Willow Place launched the Izzy chat application with support from Gender Equity Manitoba. The app provides another option for those seeking violence prevention supports to connect with crisis-support staff at Willow Place. Located on our web site, Izzy appears as a white and purple box in the lower right of the screen. Clicking on the box launches the chat application.

A special THANK YOU to our wonderful Willow Place shelter program staff who demonstrated commitment to learning the Izzy app and whose feedback helped to customize Izzy to meet our crisis response needs.

IMPORTANT: any person, any gender can call us for info or support – 24-hours, every day!

Other ways to connect with Willow Place staff include:
Manitoba toll-free: 1-877-977-0007 (directs caller to closest regional resources)
Winnipeg local: 204-615-0311
Text line: 204-813-8887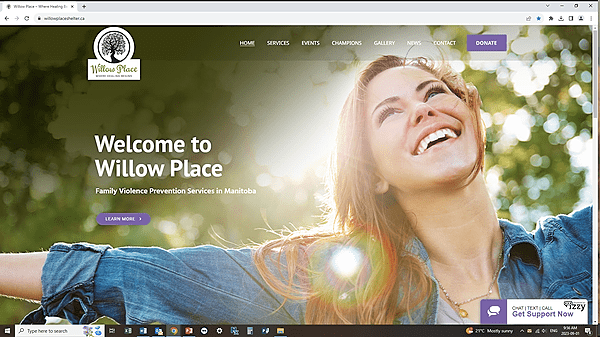 VOLUNTEER FEATURE
Thank you, Anna!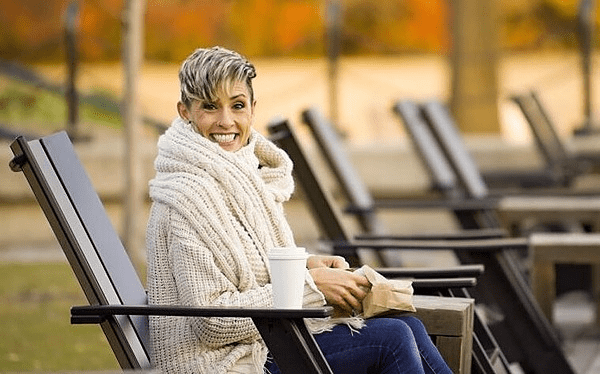 What inspired you to apply for the Willow Place volunteer program?"
I felt a calling to volunteer – specifically somewhere that supported women in crisis. I did a Google Search to see what organizations felt aligned with my mission and values – I am a Tranformational Life Coach focused on the neuroscience of 'stuckness'."
What types of activities and supports have you participated in for Willow Place?
"I have done art sessions, supported and played with children, organized art and storage spaces (so the incredible staff can access what they need, when needed), and supported community outreach activities to help spread the word about this vital organization."
Are there volunteering highlights you'd like to share – what have you noticed or learned?
"So many! 1) Watching staff in action – how they care for and truly seek to support the residents is a testimony to Willow Place's commitment to empower families. Staff attitudes are contagious, empowering and uplifting. As a volunteer that matters a lot, in creating a space that I love to come to week after week. 2) The residents of Willow Place – I love interacting with children and seeing their artistic expressions, and being a part of such a positive, forward-looking space. I love that women in shelter have chosen to stand up for themselves and that Willow Place provides them with guidance to create a new narrative for them and their families. It feels hopeful. 3) I know the importance of holding space for people and treating them not as broken or missing anything, but I see it in action at Willow Place and it is inspiring. No one talks down to anyone; there is an atmosphere of respect. Women are not treated like they have done something wrong or that they are lesser than others. There are so many skilled and artistic women passing through! HIGHLIGHTS: when children offered to tidy the paper cabinet with me – they worked so hard! Hanging out with staff at golf fundraiser day – we were treated so well and everyone was an absolute delight."
Self-care is important for those working with violence survivors – what are some things that support your self-care?
"I am very intentional about my self-care. Each day I spend time on 'me' – rejuvenating, releasing, growing, supporting and caring. I enjoy long walks, meditation and breath work; quiet time including gratitude practice, reading and crossword puzzles (or something that gives my brain a fun break!), morning coffee with my husband, daily writing and stretching practices; music and movement for stuck energy, intentional early bedtime, drinking lots of water, and filling my body with healthy and delicious food. I also enjoy sitting on my deck, hanging with friends, spending time with my family, and bi-monthly I take a day off for a spa day. There is so much more – self-care is super important to me!"
Do you have a favourite quote, song or saying? Why is it so special to you?
"I have a few, but my two faves are:
1) 'The privilege of a lifetime is to become who you truly are. – Carl Jung.' There was a time in my life where I was homeless, alone, suicidal and hopeless. I couldn't even get dressed because the idea of putting on clothes was too much. The idea of a 'me' that was loveable was not even a dream. I had no idea who I was. Now I do, and I love her. This quote is everything because now I understand how true it is."
2) " 'Clearing,' by Martha Postlewaite: 'Do not try to serve the whole world or do anything grandiose. Instead create a clearing in the dense forest of your life and wait there patiently, until the song that is yours alone to sing falls into your open cupped hands and you recognize and greet it. Only then will you know how to give yourself to the world so worthy of rescue.' I love this poem because I spent years forcing businesses to life that ended up being little more than beautiful prisons. I didn't understand why they felt so empty. When I stopped trying to force something into creation and simply allowed myself to walk where I was pulled – well, that is when all the magic really started to unfold. This poem is also a truth I never fully understood well until I started living it."
WE APPRECIATE YOU, ANNA!
Volunteer program inquiries: Shannon at 204-615-0313, ext. 224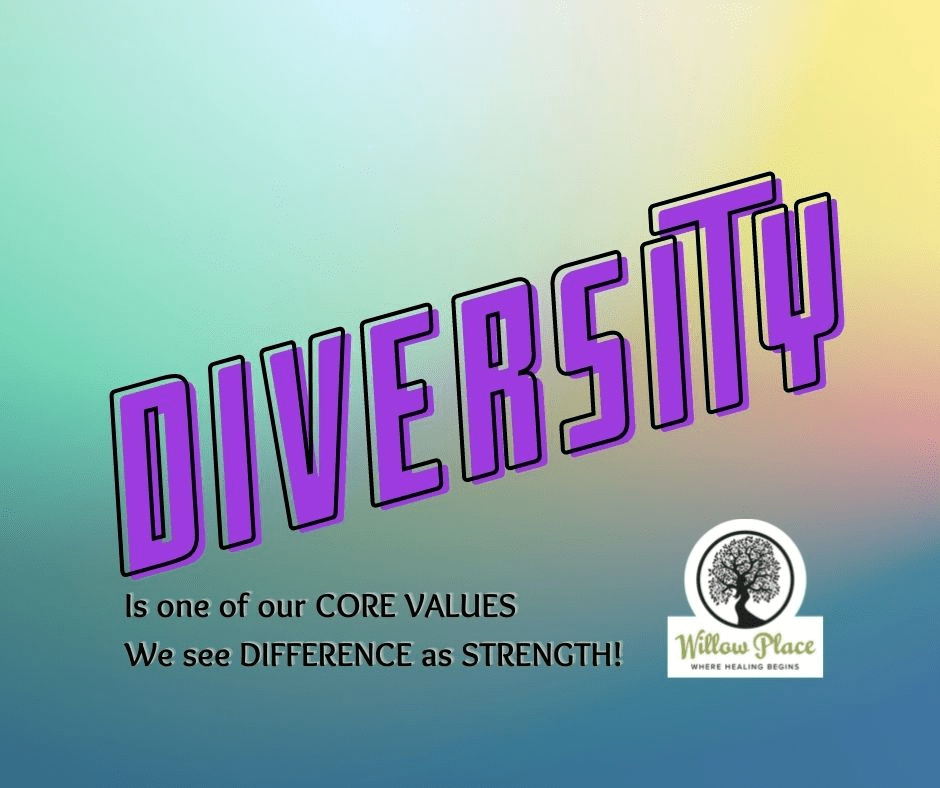 HOCKEY HELPS THE HOMELESS
Fundraising tournament – save the date!!!
The annual Hockey Helps the Homeless fundraising event is coming soon! We are delighted to share that team sponsorships are SOLD OUT, but you can still get involved as a donor, game-day sponsor, silent auction prize sponsor, spectator or volunteer. Email [email protected] for sponsor and donor inquiries or visit the tournament web site: CLICK HERE!.

Did you know that all games are FREE to attend? The tournament takes place at Seven Oaks Arena, Winnipeg, on November 3, 2023 – we hope you will join us and cheer on the players! Who knows, you may even rub shoulders with some of your hockey heroes and grab an autograph or two.

Willow Place is grateful to be one of three charities who will benefit; the other beneficiaries include Resource Assistance for Youth (RAY), and Red Road Lodge and wishes to express appreciation to the Winnipeg organizing committee, volunteers, and Hockey Helps the Homeless headquarters' amazing team!

For game day or draft night volunteering:
CLICK HERE!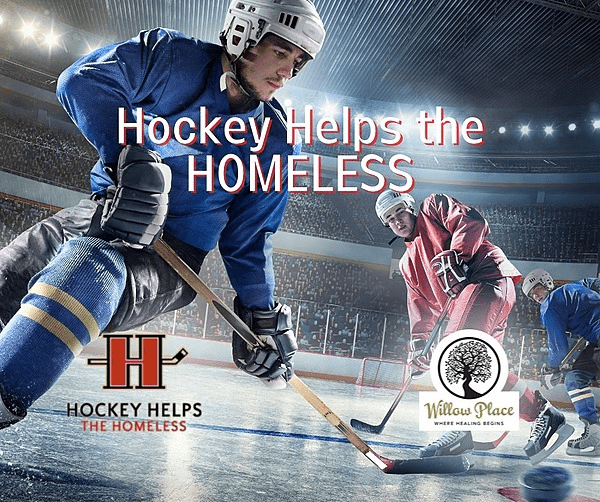 THE POWER OF PJs
November is Domestic Violence Month

Each fall, Willow Place announces the Power of PJs campaign. Beginning November 1, we seek donations of new pajamas for women and children in shelter. Our goal is to provide every shelter participant in December with a new pair of PJs.

Since the onset of the COVID pandemic, calls for counselling and shelter are growing. In 2022-2023, Willow Place's crisis supports operated at 134% of capacity. Willow Place could not provide many essentials without support from caring community members. We hope you will help us spread the word, and that you please consider donating new pajamas this November. Beyond providing material needs, this campaign helps to highlight the growing need for violence prevention services in Manitoba. Support for Power of PJs also lets those sheltering with us know that others care about their well-being and want to help.

For questions and to donate:
204-615-0313, ext. 237 or ext. 231 (weekdays, daytime hours)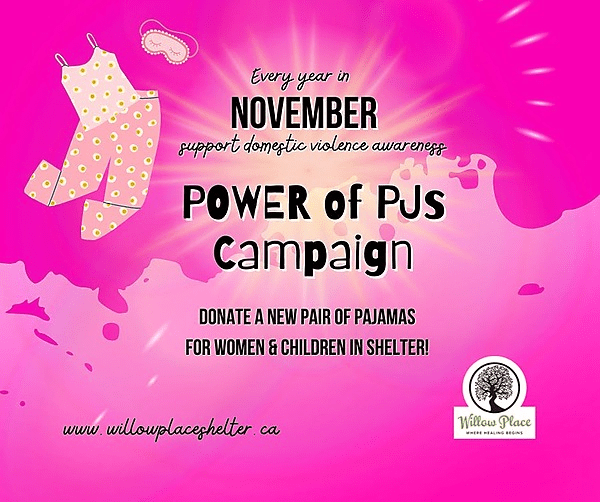 SEASONAL DONATIONS
Safe Halloween and Holiday Giving

Willow Place currently has a number of in-kind donation needs. We require small pumpkins, candy, and craft kits or craft supplies for Safe Halloween activities in the shelter program. We are also collecting holiday gifts and stocking stuffers for women and children in shelter – deadline for holiday giving is December 18th – THANK YOU for your support!
There are many ways to help out – monetary and in-kind gifts are welcome and appreciated!
DONATE:CLICK HERE!
WISH LIST:CLICK HERE!
AMAZON WISH LIST:CLICK HERE!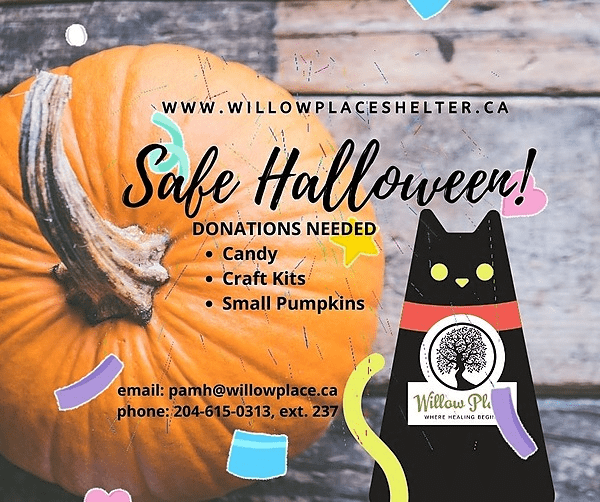 Related Posts