WILLOW PLACE NEWS – June 2019
Women Helping Women
Winnipeg Realtor's Sahara Trek to Support Willow Place
By Pam Hadder, Community Coordinator, Willow Place
This winter, Willow Place was approached by Royal LePage realtor, Nicole Hacault, about a very unique fundraiser – Nicole Hacault is one of 120 Royal LePage realtors across Canada, and one of two Manitoba realtors, that will be trekking across the Sahara Desert in November 2019 in support of Canadian shelters.  Willow Place is honored and grateful to be the recipient of Nicole's incredible Royal LePage Shelter Foundation initiative!  Royal LePage and the Royal LePage Shelter Foundation have been top supporters of Willow Place, helping us to be able to continue to provide no-cost emergency and ongoing support to women and children dealing with family violence and abuse.
We asked Nicole to share a bit about her motivation for this incredible undertaking – we hope you will enjoy getting to know Nicole through her responses, below.  We hope that you will be as inspired as we are by Nicole's compassion, drive to support healthy communities, and her courage to participate in this grueling trek on behalf of Willow Place! We encourage you to follow Nicole's journey via her web page, and please consider sponsoring her campaign in support of Willow Place!  Every donation makes a big difference and directly impacts our ability to deliver effective family violence prevention supports in the Winnipeg region.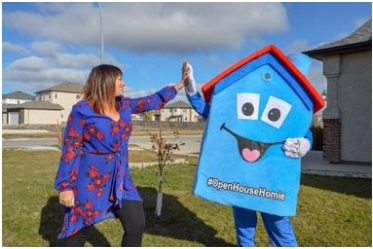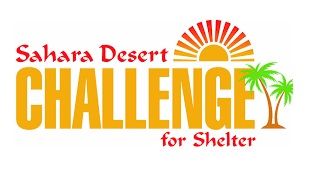 Here is the link to the Sahara Trek web page:
https://royallepage.myetap.org/fundraiser/Sahara/individual.do?participationRef=1185.0.1302952441&fbclid=IwAR3siUvELIbMwI6FXaPdshZJHbLfOjhEb0zh0UGsWHmPn0EMviDdgQNnLc
An Interview with Winnipeg Realtor, and Sahara Trek Participant, NICOLE HACAULT!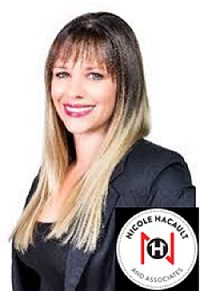 Your organization and/or business name:
Nicole Hacault with Royal LePage Top Producers 
Why you chose to support Willow Place:
"Through the Royal LePage Shelter Foundation we support women and children who are escaping domestic violence. I have personally been affected by domestic violence and so it is something that aligns with my own experiences as well."
Please tell us a bit about your campaign, the highlights and what you learned from the experience:
"I have spoken publicly at various events, and I have connected with many people throughout North America. Every time I talk about family violence, I have people coming up to me and telling me their story. It isn't until someone starts talking that others come forward. For me, these discussions have brought to light how many people that I know have also been affected by family violence."
Why do you think it is important for women to help women?
"We need to help raise each other up. We understand each other and there is almost always a connection with different experiences and obstacles we have had. When women help each other, we each grow stronger." 
What women have inspired you in your life?  Please include a favorite quote if you have one.
"My mom. There is no quote, just incredible hard work and determination."
My favorite quotes:
"Taking massive action on dreams is pretty much where anyone who has ever done anything massive had to start."
"Life is a balance of holding on and letting go."
Thank you, Nicole and Royal LePage – you encourage and inspire us in our work at Willow Place!
Hockey Helps the Homeless!
Dream Tournament Comes to Winnipeg – Willow Place a Beneficiary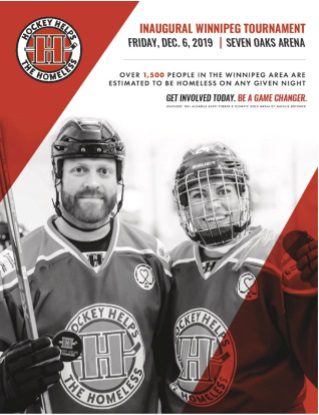 Have you ever dreamed of skating alongside your hockey heroes? Many Winnipeggers love "Canada's sport," and on December 6, 2019 Hockey Helps the Homeless is coming to our city! Willow Place is delighted to be one of three charitable organizations that will receive funds from this initiative.
The tournament is limited to ten teams, all of which are already sold out! Various volunteer, donation and sponsorship opportunities exist, and these are also going very quickly! Manitobans love hockey, and live up to the "Friendly Manitoba" slogan by pulling together to lend support to those in need. Hockey Helps the Homeless is a perfect forum for our community to make a difference!
Please visit the link, below, to view the Winnipeg tournament page on the Hockey Helps the Homeless web site, where you can donate, inquire about sponsorship, sign up to volunteer and more!
http://tournament.hhth.com/site/TR?fr_id=1300&pg=entry
Making a Difference – Willow Place Volunteer Update
Twice a year in the spring and fall, Willow Place recruits for shelter support volunteers. Similar to a job interview process, the candidates complete applications and supply us with a resume and cover letter. Those selected attend our three-day comprehensive training, as well as a shelter orientation day. All volunteers must obtain adult and child abuse registry back checks, as well as a criminal records check, including vulnerable sector search.
This spring we were delighted to welcome five new shelter support volunteers to Willow Place training and orientation!  Shelter volunteers support staff and shelter program residents in a wide variety of ways including offering informal groups and activities, sorting and organizing donations, child-minding and administrative tasks.   Willow Place also utilizes volunteers for community work, including special events, public education, special projects and fundraising. A third and very important volunteer opportunity is service on the Willow Place board of directors.
Volunteers are a vital part of the work we do at Willow Place, and we offer challenge, variety and flexibility for those who participate in our volunteer programs.  Currently, we have 27 volunteers within shelter support and ten special project and fundraising volunteers. Three times yearly we connect with our volunteers to talk about their successes and challenges and to enjoy some social time together. This year we have enjoyed a Pizza Night (February), and our spring tea/Volunteer Appreciation Evening (May), and we look forward to another get-together in the months ahead!  Special thanks to Jacked Up Jill for providing gourmet coffee for this special event – we are grateful for the ongoing support. 

Do you have a few hours a month to share? For information on volunteering, contact Pam: pamh@willowplace.ca  or call 204-615-0313, ext. 237 (Monday to Friday between 9 a.m. and 4 p.m.)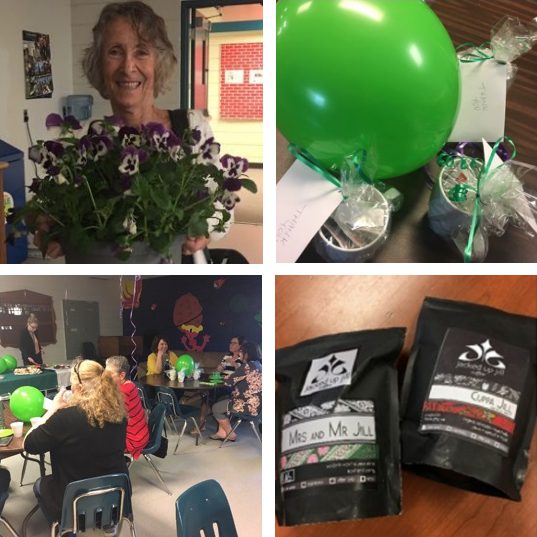 Caring Dads Program Update
By Shannon Cameron, Willow Place Community Team
Caring Dads is a seventeen-week program working with men who have an open file with Winnipeg Child and Family Services – files would have been opened based on a domestic violence report. Caring Dads was designed to help men become more child-centered, and to help them understand the trauma domestic violence causes within the family. Willow Place piloted Caring Dads in partnership with Winnipeg CFS in 2018, and have expanded the program in 2019, with commitment to completing two group intakes.  The results have been very promising, and we are very pleased with the changes we have seen in the men who have participated in Caring Dads, as well as the positive impacts for their children.
The first Caring Dads group started with nine participants and resulted in seven men completing the program; our second group started with twelve participants, with nine men completing the program. Caring Dads has supported positive changes, including CFS file status, increased quality of visits, some file closings, and restored custody.
The men in both groups shared that they were feeling very apprehensive about attending Caring Dads in the beginning, but that they quickly found themselves looking forward to group each week. Participants shared their gratitude for Caring Dads, and participants also found the program was influential in changing their way of thinking.
As a facilitator of this group it is very gratifying to see the changes in these men from week to week. Listening to the men share how they are using new skills and watching their confidence grow, shows just how important this program is. Willow Place is committed to running Caring Dads intake and programming two times a year.  Additionally, we follow up with men who have completed Caring Dads, including with their Child and Family worker to monitor their status.
Caring Dads is an important part of the battle against domestic violence, and building healthy relationships, and we are thankful for grant support from The Sir Thomas Cropo Foundation (2019) and The Jewish Foundation (2018) – your faith in our community work has made it possible for us to help break the cycle of violence in Manitoba families.

Third Party Fundraising and Donation Drives
Thoughtful and creative approaches from a caring community!
Willow Place is fortunate to have the support of a caring community to meet our fundraising and donation needs.  In recent months we have been inspired by the youth, university students, corporate groups and families who have contacted us about holding third party fundraisers and donation drives.  Some examples from recent weeks include The Body Shop, St. Vital who were inspired by a buy one get one offer in May. The Body Shop offered customers an opportunity to donate their bonus items and this resulted in over $145.00 in body care donations for women in our shelter programs (thank you Kayla and Karen)!  Another recent example was University of Manitoba medical students who worked with Shoppers Drug Mart to provide a pallet of women's hygiene products, which we shared with our sister shelters and other community partners.  Cargill Winnipeg employees held a Cake-Off event in honour of International Women's Day, March 8, which resulted in a huge donation of new items for our shelter, along with a selection of gourmet cakes for our shelter kitchen (thank you, Dana Sachvie).  For Mother's Day, we had two community donors provide beautiful gift bags for mothers, as well as a delicious pizza dinner from Carbone (Thank you Barb Lysack and Trisha Kulathungam). Are you interested in holding a donation drive or third party fundraiser? For more information: pamh@willowplace.ca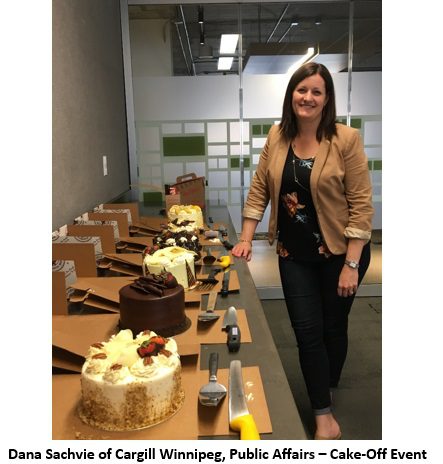 Donations Support – Thanks to our Community Partners!
Willow Place increasingly relies upon in-kind and monetary donations to meet operational budgets and provide consistent quality of support to our clients. We are very thankful for community partners who support us year-round to receive and access donations:
– The Helping Hand Thrift Store
– Oyate Tipi Cumini Yape
– Soup Sisters, Winnipeg
– Volunteer Manitoba
How To Donate
Willow Place requires a stacking washer and dryer – can you help?
We currently need a new or like new smaller scale, L-shaped, leather or pleather sectional (dark colour) for our family lounge (no rips or holes).
To donate please call 204-615-0313 ext.  237 – Thank You!
Family violence is a concern for all of us. It takes awareness, commitment and support from family, friends and community to support healthy changes.
Please consider contributing to our wish list:
– Laundry pods
– Paper towels
– Toilet paper (1-ply)
– Facial tissue (Kleenex) boxes and pocket packs accepted
– Pens and small journal books
– Art and craft supplies: markers, paper, crayons, paints, beads
– Cleaning cloths (microfibre or J-Cloths)
– Baking supplies: cake mixes, flour, white sugar, brown sugar, baking powder, baking soda, cocoa powder, chocolate chips, nuts, muffin tin liners, shortening
– Craft kits (for women, children and teen activities)
– Bus tickets (adult and youth)
– Gift cards (Walmart, Superstore, Safeway/Sobey's, Tim Horton's or any similar businesses for shelter supplies and client outings)
Visit our web site often as we frequently update our wish list based upon client need and our current donation supply. Thank you for your generous support of Willow Place!